September 11, 2006
In Memory of Inna Basina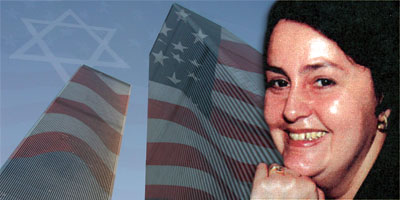 When I signed up for the 2,996 tribute (edit: Use this mirror site instead) and was assigned Inna Basina, I was unable to find much meaningful information about her. I figured I would have to resort to artwork alone to complete a meaningful tribute. Well, it turns out that I could not have drawn a person who more exemplifies what it is to be an American.
In Russia, Judaism was Inna Basina's nationality. In New York City, it was her religion. "Here it was not a problem," said Inna's husband, Vladimir Basin.

Inna found her second life when her family settled in Bensonhurst, Brooklyn, as refugees in 1994. "It was freedom for her, freedom for our son," he said.

Inna took a job as a translator for AT&T. It wasn't an ideal job, but it made ends meet. The couple made it a point never to be on welfare; they were in the United States for the opportunity, not handouts.

She worked nights while studying for a master's degree in accounting at Pace University. She was a sharp student, and a professor found her an accounting position at J. P. Morgan before she graduated. She moved to Cantor Fitzgerald in 1999.

Vladimir Basin would drop her off at the World Trade Center on his way to work. On the morning of Sept. 11, she was eager to buy a present for her son, Boris, whose 12th birthday was three days later. "Our son is the first thing in our lives," Mr. Basin said. "Everything for America was for family and son, not because she liked accounting."

Profile published in THE NEW YORK TIMES on November 13, 2001.
Inna worked in the World Trade Center as staff accountant for Cantor Fitzgerald.
A memorial guestbook features comments from her friends. Some excerpts:
Knowing Inna and her family very closely for many years, I share with them the pain, tragic loss and memories about wondeful person, caring mother and devoted wife.

David Goldsheyder (New York, NY )
One year later I still can not believe that IT happened and that my childhood friend Inna Kogan is one of so many who is gone…The whole year she is in front of my eyes just the way she was when we were young girls: beautiful, with exquisite black hair and with the most gorgeous eyes to mach. Bright, sharp, always straight A-student, well read and well spoken…And then many years later, already here, in America, we would run into each other on the street, talk for a few minutes about our very busy, always on the run adult life, promise each other to call, to come to visit and then run again….She was very happy woman: loving and loved wife, adoring and adored mother, caring daughter….

Innochka, you will always be part of my memory. May your soul rest in peace…

Ella Langman (Brooklyn, NY )
Mrs. Basina, America was, is, and will continue to be a singularly great nation because of people like you. I am proud to have had the privilege of learning about you, and I will honor your memory by living the most decent, noble, and valuable life I can, and by helping others to do the same.
Rest in Peace, Inna.